Slow Food-Fresh Mushroom Risotto
In the process of writing my book on Slow Home, I get to set up all kinds of fun photo shoots!  The first planned shoot is to show a community of friends and family sharing a slow cooked meal and experiencing the art of slow entertaining in a Slow Home setting.  After foraging for mushrooms earlier this week, the menu was set…Mushroom risotto as the main course, accompanied by an arugula/parmesan salad, and followed by desert of lavender infused panecopia and persimmon cake.  OMG!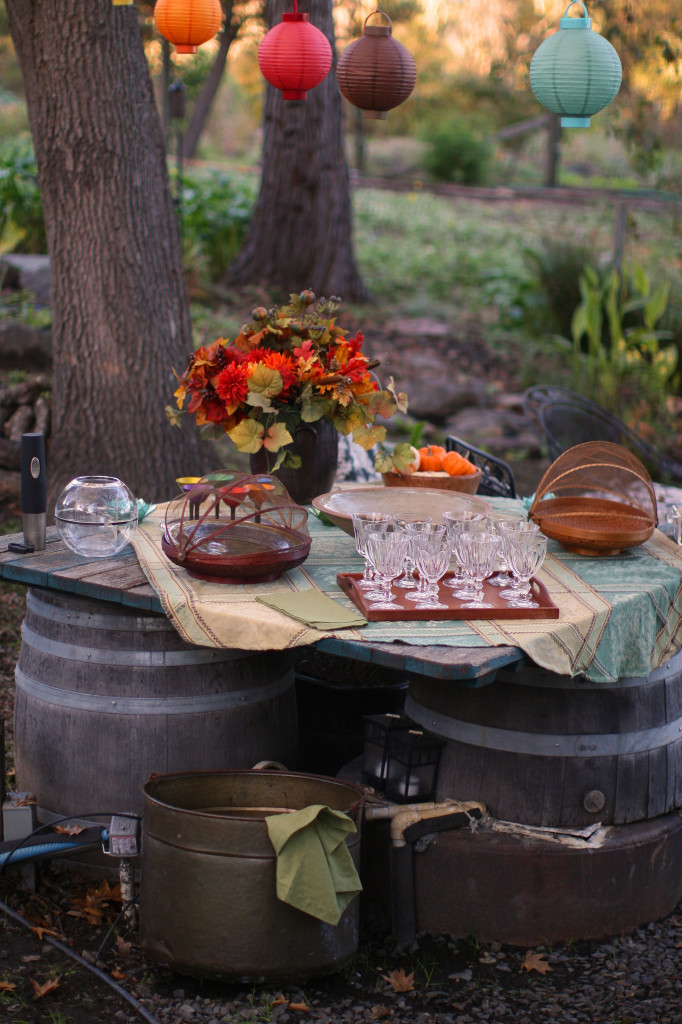 all photos are copyrighted by Little Bits of Beauty™
Thanks to my wonderful and supportive friends…Jenifer Keefe (acupuncturist extraordinaire) offered her home on a pond, and her open communal living space (which I helped design) for the event; Jackie provided her expertise as a gourmand chef and half of the desert; Melinda Montanye, a fabulous baker and the photographer for my book, took pictures and provided the persimmon cake; guest Patrick Melley, winemaker of Russian Hill Estate wines, provided the wine; and my husband, plus the rest of my group of lovely friends provided music, hands to help, fire making skills, and were the models for this very fun event.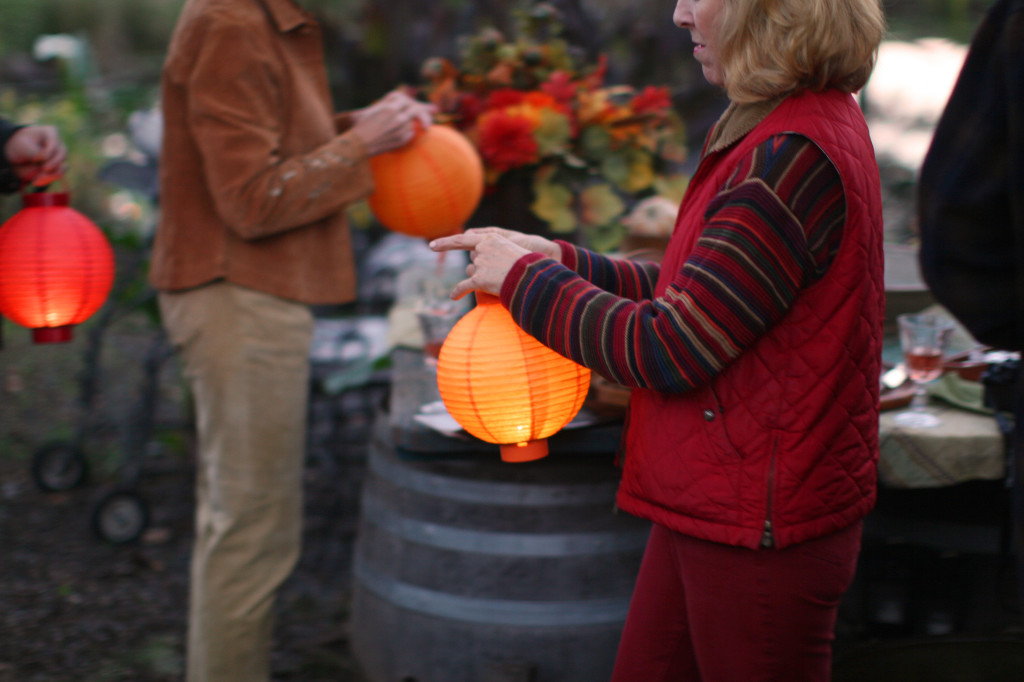 all photos are copyrighted by Little Bits of Beauty™
As not many people knew each other, we broke the ice by having everyone pitch in and help to set up the lights, mill around and help serve the wine and make the food.  By all working together to make the party happen, they all got to know each other and the atmosphere was very relaxed.  Also, everyone either participated in chopping, stirring, adding the ingredients or serving the food, so they all got to see exactly what went into the risotto they were going to eat.  Plus we cooked it outdoors, in a paella pan, on top of a paella gas ring, so everyone could stand around and watch; just as we would have a paella!
all photos are copyrighted by Little Bits of Beauty™
While it was a Slow Cooking process (which means no real measuring of ingredients and a moving list of ingredients) here is the general recipe for our Mushroom risotto:
Aborio Rice
Freshly made Chicken stock and White Wine as the liquid (usually around 3 to 1 liquid to rice-you could also use mushroom or vegi stock)
olive oil
shallots
Spices included (but not exclusive) cardamon, cumin, coriander, pimiento salt, pepper, and what ever else seemed to be laying around
All the mushrooms we collected plus a few more including porcini, oyster, shitake, portobello, chanterelles
Lot's of butter
and then more wine!
We browned the ingredients beginning with the spices in olive oil, and then began to add a little bit of liquid in at a time, all the while taking turns stirring.  We continued to add liquid until the risotto was the perfect consistency, creamy, moist and perfectly blended.  Can I say…it was delicious!  All of it, each and every mouthful, of each and every part of the meal.  A great time was had by all,
all photos are copyrighted by Little Bits of Beauty™
and the experience of a slow meal, shared together with friends was fabulous…plus, may I say, Melinda got the shots we needed for this part of the book!  The whole evening was a Little Bit of Beauty™ for sure.
What is one of your best shared meal experiences?  And what made it so?  Please leave me a comment below, I'd love to hear!
Comments
comments