Nella Vetrina on Pinterest
Being an Italophile, I have the distinct pleasure of pinning for an Italian Import company called Nella Vetrina on Pinterest. And why not? I mean really, who doesn't love Italy, right?
You all know of my love for Pinterest…the virtual visual beauty board. Pinning is what I do to make my eyes happy and uplift my spirits. There are always beautiful pictures to inspire, give me ideas for my design work and then file away for later use. It's also become my virtual filing cabinet for articles and thoughts I want to keep track of, plus all of my travel dreams…which of course always include Italy.
I also use it a lot for my business. By sharing boards with clients for various design projects, including my own, I can keep track of likes and dislikes and show the direction of the look and feel. I can also search Pinterest for great products and looks for my projects and specific blog posts to share with my followers.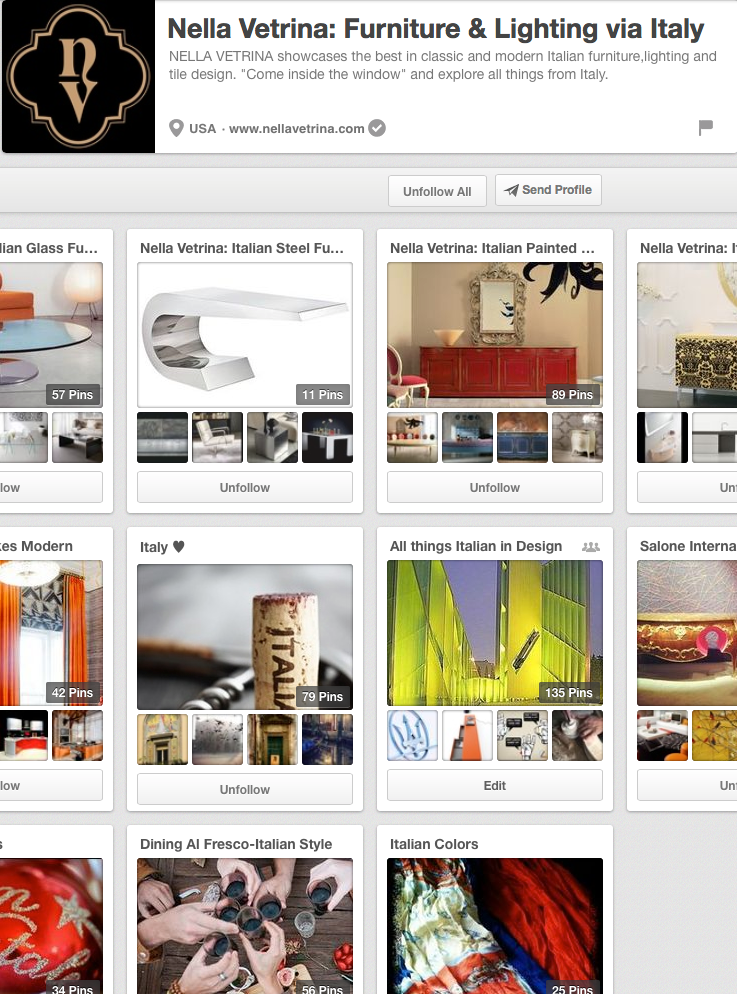 So when Nella Vetrina approached me to help them to understand Pinterest and teach them how they could share their fabulous products with all of us through Pinterest, I was only too happy to help out.
It's been a delight to showcase their brand or image through the use of photography, both of their product and general inspiration from Italy and Italian design. As we move forward we will set up a couple of fun Pinterest campaigns that you can join in on if you too love Italian design and all things from Italy!
To join us for the up coming campaigns, I invite you to begin by following our boards. If you have an eye for Italian Design, leave me a comment, or send me an email and I will invite you to pin on a collective board called  "All Things Italian in Design".
As the "follow" love spreads, we will initiate a "pin to win campaign", where you will have the possibility of winning one of Nella Vetrina's light fixtures, whether a classic Murano chandelier or a modern Italian light fixture. And please, who can't use another light fixture in their home or office?
So, to start out the New Year with great Italian inspiration won't you join me over at Nella Vetrina on Pinterest, and follow, share, repin and join our collective boards and future pin to win campaigns? I'd love to see you there, and invite your friends…they'll love it too.
And join Nella Vetrina on Facebook and Google+ too. See you there.
Bring a little Italian inspiration into your life this new year…Cheers!
Comments
comments