7 Ideas for a Home Office-Sonoma Style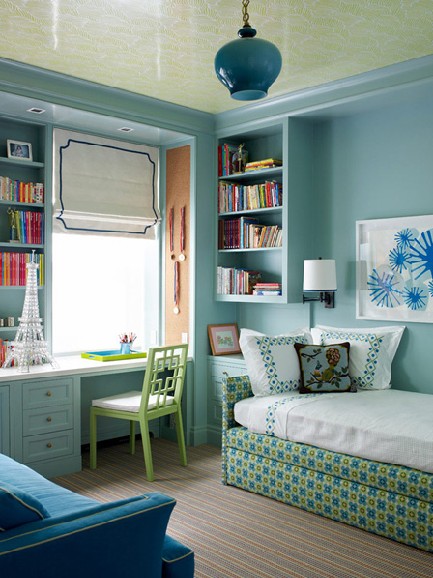 Did you know that 17.2 million Americas worked from home for an employer in 2008?  That was a 74% increase since 2005!  And that doesn't include the freelancers, self-employed or those folks looking for work.  Bottom line? That's a whole lot of home offices. And, today with wireless networks you almost do not need a separate office.  People work at coffee shops, kitchen tables, bedroom closets and in the middle of the family room.  Much of this does not bode well for "turning it off at the end of the day" nor for "focused" attention to the work at hand.  Being an advocate of a Slow Home, I think it's better to find a dedicated space to work from so that attention is focused when working, and so that it can be completely turned off at the end of the work day.
So with that in mind, let's take a look at what some  of our options are…whether your home is a studio apartment or a country house.
1. Piece of Furniture designed to close up: From DIY projects, Pottery Barn to Restoration Hardware and more, there are quite a few options to create a space to close up when you want to end your work day.  This is a particularly great way to hide an office in a studio, small apartment or dorm room.  Even in a spare bedroom or dining room.  These range from armoires, secretaries, and even large scale trunks!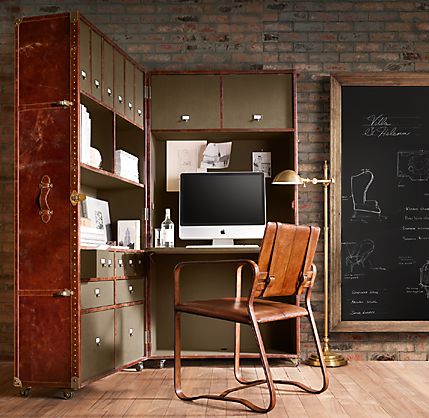 2. Use a Closet: Using a closet in a room that doesn't have a need for it full time is a great idea for a home office.  To close off your workspace at the end of the day change closet doors to shutters, a barn door or a beautiful curtain.  You can cover the back wall with cork and even cover with fun fabrics to add pizzazz.    Or, add a fun pop of color with paint or wildly patterned wallpaper, pick up some inexpensive containers and hang shelves as needed.  I've often found that closets in guest rooms are the best place for this kind of office.  You can close the workspace off from your guest when they are in residence…and you have a secondary buffer by closing the bedroom door at the end of a long day. 3. End of a Hall/nook/or Cranny: When your work does not require you to spread out, these small out of the way spaces are a great place to set up a workstation.  They are often dead space with not much use for anything else.  So to find a functional use for them always thrills me.  Often, if the end of the hall does not lead into a bedroom, there is a window.  Having a window in front of the desk is great for several reasons: It creates an open vista energetically, the light is behind the computer so as not to reflect on the screen, and a view, particularly of nature or green of some sort is always a great way to cleanse the mind for a mini beauty break during your work time.  Nooks and Cranny's, such as under a stairway, tucked under an attic window, or particularly large entry way can often feel separate from your main living space  and which you aren't always walking by nor is it in the main sightline of your living or sleeping space. 4. A Dedicated Portion of a Room: You often see a desk set up in a room primarily used for another purpose.  This can work, but carefully.  As I talked about in Slow Bedroom, I am anti office of any sort in the bedroom due to the electromagnetic fields of technology.  But in certain instances it can work, especially if it is not in your main sleeping area.  We often have guest rooms that are seldom used with infrequent guests and short stays when they are there.  So as stated above, a guest room closet or desk under a window can work well.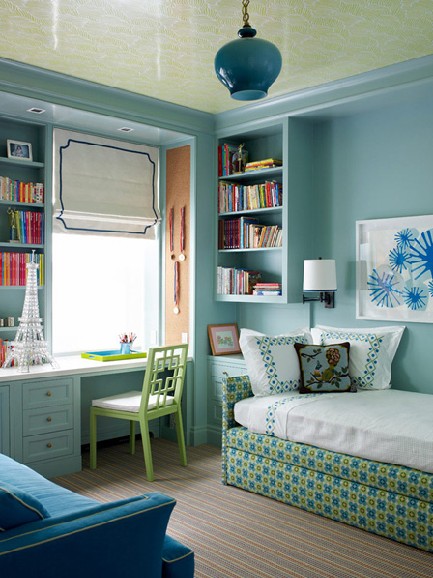 5. A Dedicated Room as the Office: When we have the space in the home, a separate room is the ideal situation.  Dedicate a room, preferably out of the main thoroughfare, with a door…for your at home office.  If you don't have a "den" room, perhaps you can  repurpose another room?  We often move into a home that has rooms with names such as "master bedroom", "dining room" etc.  If you take the names off the room and re look at your space, there might be other ways for the space to flow and that are better suited for your lifestyle.  For instance…most formal dining rooms these days are seldom used, why not repurpose this into your office?  The other room I've often switched is the master bedroom…used  for sleep 95% of the time, it often has the second largest real estate in the house.  Why not use a smaller bedroom to do your sleeping, and spend your 8 hour workday…or more…in a spacious room with lovely windows and bright sunlight as your office?  Might this not better serve your daily life?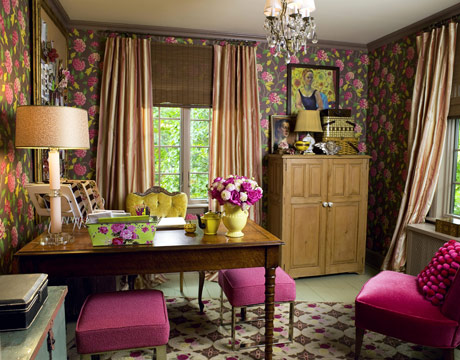 6. Building a separate room: My favorite…when it's possible…is to re-purpose, design or build a completely separate "room" or building on your property.  This is the most ideal scenario, and there are many options that do not have to be expensive. It could look like converting a storage shed by adding a couple of windows, finishing the walls and adding a space heater…or…using a separate garage, exchanging a garage door for french doors, or a large windowed…or…adding a building.  Adding a building also has a wide range of  options from pre-fab rooms or small buildings, to using recycled shipping containers, or simply taking a traditional route and building a small room.  The reason I like this the best is because it's much harder to slip out of the house to the office at the end of the day "just to check one more thing".  This serves you best by keeping your home a dedicated SLOW space!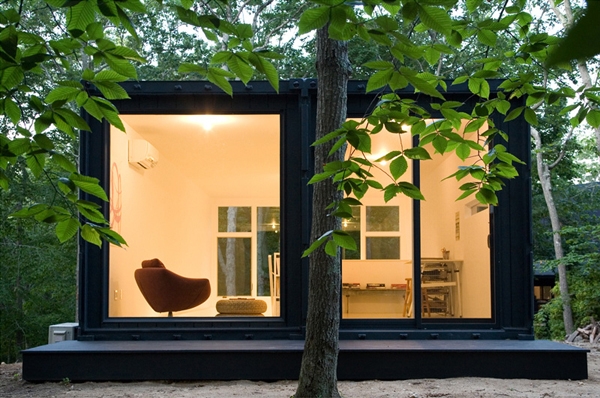 7. In the Kitchen, NOT: This is my least favorite place to have a workspace.  Apart from the obvious reasons of being next to the refrigerator all day (doesn't work to well for dietary disciplines) it is also the center of most homes and family life.  Busy Mothers often think that by putting a desk in their kitchen they can watch over their children's homework.  In fact, this is not a good way to do homework.  It is hard to learn and study in a space with a lot of distraction…the same regarding work.  Some people use it simply as a place to pay household bills…again, the energy of mixing finances in a space meant to nourish ones body and soul doesn't seem like a good fit.   To me, kitchen work space is a last resort…only after every other option has been studied…and more as a place to occasionally check messages.  This can sometimes works in second homes where work is not a norm, but a "checking in" occasionally is.
After you re-look at your space in your home, have you found a better spot for your home office?  If so, I'd love to hear it…leave a comment below, I'm always interested in new ideas.  Enjoy the visuals in the video below!
Comments
comments