Renovation Project: Cabo San Lucas
On one of our recent projects we were given the task of renovating a small condominium in Cabo San Lucas, Mexico. This two bedroom condo is one of 4 residences our clients travel between. While quite small, it is right on the water with a spectacular view of  the ocean, the private beach and stunning sunsets. The intention was to capture the outdoor feel of sun, sand and surf, inside, with a slight flavor of Mexico through the use of color and texture…while still maintaining a bit of "starch" or structure to the space so as not to be to casual.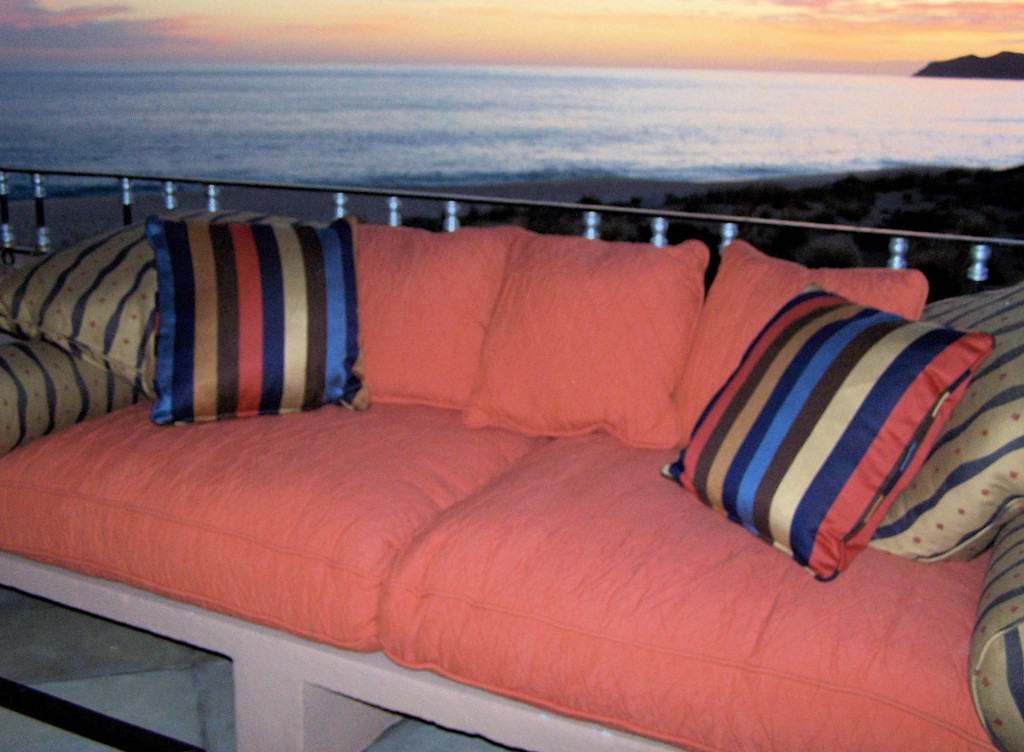 My clients very rarely expect to have overnight guests in their personal space, so they wanted it to be comfortable for the two of them on a daily bases.  They wanted nooks and corners to be able to nap in while enjoying the view from all angles.  They wanted an area that was somewhat hidden from everyday view as a dedicated office space.  And, for the occasional overnight guest, they did want to offer them privacy with a bathroom of their own.  They also wanted to be able to entertain friends and family for meals and get togethers as they wished. So…we enlarged and opened up the living space by putting in 12 foot wide pocket doors to the second bedroom that when closed create the guest room.  When open, the two rooms feel like one space with both rooms opening out to the patio making their living space triple in size with a complete sense of indoor/outdoor living.  This made the small space feel so much larger!  The office corner is tucked out of the main sightline, behind the side wall for the pocket doors, yet with a large mirror above the desk they have a view of the ocean from there too.  With dining areas set up both inside and out, they can easily feed 14 at a sit down dinner.  And…their master bedroom suite, which also opens up to the patio, is a serene haven for relaxation…just what they wanted. With great clients and a stellar location, it was a fun and fulfilling project.  Not bad for a 1200 sq. ft. condo…and a jewel of a winter retreat!
Comments
comments