Let's Colour Project/Part 2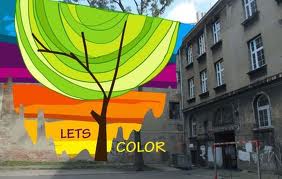 As the Let's Colour Project continues its journey around the world with its initiative to transform grey spaces with vibrant colour, it's finishing up in it's first four communities located in Brazil, France, UK, and now India.  In part one of my flagging this fun, fascinating and colorful project, I highlighted a film clip by  Adam Berg, an award wining music video and advertising director, of a charming young girl in Brazil and a Grandmother as they witness and partake in transforming their grey neighborhood.
While I LOVE all of the short documentary films (I really can't wait to see the documentary in it's entirety) I wanted to share the film clip from India in this post.     It's from the fourth chapter of the Let's Colour documentary and recaps their time there. This film delves into the deep relationship the people of India have with colour. The way they embrace it in every facet of their lives is inspiring, especially considering the neutral natural surroundings of Jodhpur.
I personally have a fascination with India.  I'm a meditator and can't WAIT to travel there and explore both the spiritual side and this thriving and re-emerging culture and country!  It speaks to my heart, my soul and my love of the exotic…which I think is the essence of India anyway.  I was particularly struck by this quote from the narrator of this film clip:
With colour life is full of joys…without the colour it looks so of the sorrow…there is no joyfulness, there is no throbbing vibration, there is no symbol of life…"
I think he perfectly captures my inner most feelings about color.  I believe there definitely is a vibration to color and that we as humans feel better with color in our lives!  To view the other documentaries you can see them on the Let's Colour blog site.
What is your feeling about color?  Could you live without it?
Comments
comments