Outdoor Living Space-Sonoma Style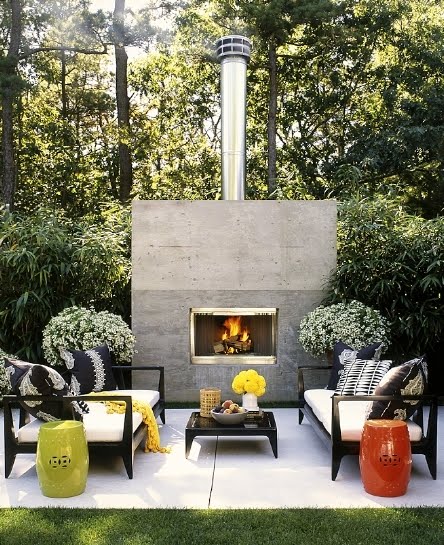 The popularity of  "Staycations", which were initially driven by the growing complexities and frustrations of traveling led to the desire to expand the interior home sanctuary beyond the backdoor.    This, combined with the current economic fluctuations, has forced people to cut back on travel even more. But something terrific has come out of all this… people are staying home.  They are  enjoying being able to teach their children how to relax in the comfort of their own home and they don't need to wait for the holidays or summer vacation to do so.
Homeowners are now looking to design outdoor living spaces that range from resort-like exteriors furnished with high-end outdoor all weather furniture, fashionable accessories and rugs, pro-level outdoor kitchens, and extensive outdoor lighting; to casually thrown together vintage chic and salvation army natural glades; to globally inspired ethnic tropical island paradises!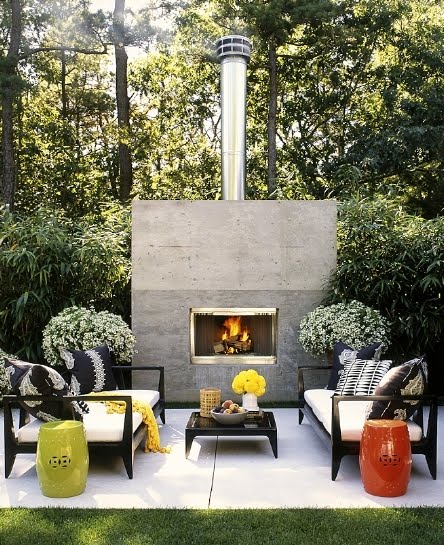 The first thing that happens in the effort to expand our living space into the great outdoors…whether a simple porch or terrace, condo or town home courtyard or back patio, or full blown lush garden…is to open up the indoors to the outside.  The use of different window configurations helps achieve this goal.  Some ideas are:   
Doorway windows can create a window wall. This can range from the high end where walls completely fold open as exemplified by Nana walls.  To a simple windowed door surrounded by floor to ceiling windows in many different configurations.
French doors, from traditional to a series of clean modern, small framed doors all along the wall.
Once the inside is opened up to the outdoors then it's time to create your personalized space that can take many forms.  They could look like…:
Cooking space: from a simple BBQ to a complete outdoor pro kitchen
Eating space: once the food is cooked…or simply to enjoy the outdoors over a glass of wine and fresh figs with cheese,  there is nothing like eating outdoors when the weather permits
Outdoor living room: Lounging with friends and family in the great outdoors is a great way to enjoy nature or a little bit of green.
Fireside chats: A  key element in many seating areas is fire…from a practical way to keep warm to the ancient tribal ritual of gathering around a fire at the end of the day
A place to nap: or simply relax.  From a hammock, to a Balinese day bed, to a modern chaise for two
Meditation/contemplation garden: Zen is here to stay, mostly as a way to help us stay centered and slow down.  There is no place better to get centered then in nature!
Outdoor showers & spas: Living in northern California, hot tubs abound.   And, in support of creating at home spa's these wonderful soaking tubs are often set out under the stars and are accompanied by outdoor showers
Pools/ponds/waterfeatures: From fountains to pools… natural swimming pools and ponds are the best with the plant and microscopic life within providing powerful self-cleansing forces without the use of chemicals.  And, small water features on decks or patios are beautiful and help create a sense of serenity.
Private courtyards: From built in courtyards of some townhomes and condos, to created courtyards with in a larger garden, courtyards give a sense of mystery.
Play areas: When we think of play areas we assume we mean for children.  Here in wine country the wonderful outdoor sport of Bocce Ball has taken off again.  If you are blessed with space, it is indeed wonderful to include a play area for all age groups.
Once the space is set accessorizing adds personality and a spark of fun!
Lighting: From simple christmas tree lights to imported Moroccan lanterns to antique chandeliers can all be used and hung from trellises, trees, umbrellas and poles.
Outdoor art: Whether hung on the side of the house, in a outdoor seating area or in the center of a garden…garden art adds interest.
Creative ways to plant green: The smaller the space the more creative you can get with adding green. From pots, to vertical gardens…add green!
Shaded areas: Shade spots help to create boundaries for a room within a larger garden or on a deck.
Rugs: As in any living room, rugs help define the boundaries of your seating area and set the tone for the style of the room.  The same applies outside.
What are you doing to bring in nature to your space?  Leave a comment below, I LOVE hearing new ideas!
Enjoy some inspiration from all the Little Bits of Beauty™ in these outside spaces…and let the sun shine in!
Comments
comments