Living With Books:Part 2-An eye on Nate Berkus
Those of you who read my 8 Display Tips for Living with Books-Part 1 know that I LOVE Books.  There are so many ways that books enrich my life…
Design books inspire me and teach me tricks of the trade
Fiction transports me to another's world
Biographies inform me of an inspiring life
Historical books educate me and
Spiritual Books center me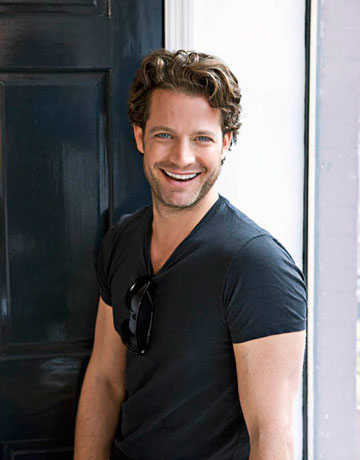 I think books say something about the person who lives with them…it say's that they are thoughtful, intelligent and love the spoken word.  A home filled with books is a place of endless adventure. One of my favorite fellow designers who also likes AND lives with a lot of books is Nate Berkus.  He is best known for his regular appearances on Oprah and his easy, budget conscious designs. He will be premiering with his own show on September 13th and I look forward to following it!  I had the pleasure of meeting him once when he was first getting started and I lived in Chicago.  Quiet, unassuming and sincere, he is exactly as he appears.  My favorite project of his is his own apartment located in Chicago, overlooking Lake Michigan as shown in Elle Decor in 2008.  While the whole apartment is fab, his library is what draws me in.   
He has said that a library is a room to nestle in with or with out a book!  I'd say by the look of his apartment we would all be very comfortable nestling in his home on those cold winter days!  Easy and effortless, his shelves in his library are like mine!  Books randomly placed, horizontally and vertically!  With his TV in the middle I'd say he would never have to leave this room to find entertainment.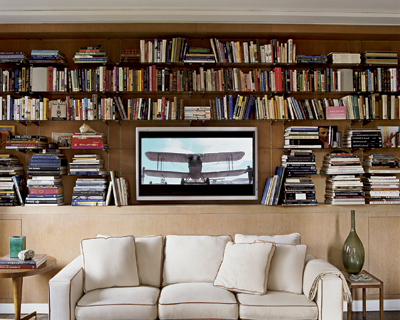 Also, on a fabulous oversized yellow velvet ottoman he stacks even more books.  I could spend hours and days simply sifting through all the books and reading whatever catches my fancy!
I think what defines a designer more then anything else is his own personal style…and I say that Nate has defined himself well by the casual ease and beauty of how he lives with books.
What's your favorite way to display books?
Happy #nateday
Comments
comments