Home Office-Part 3, the Results:by Irene Turner Interior Design Firms
I'm thrilled to say I'm actually sitting in my new office as I write the third in the series of switching my home office posts.  Three weeks from the start and I'm 98% done, and Ron, well, he's about 80% done.  I'm am one happy client!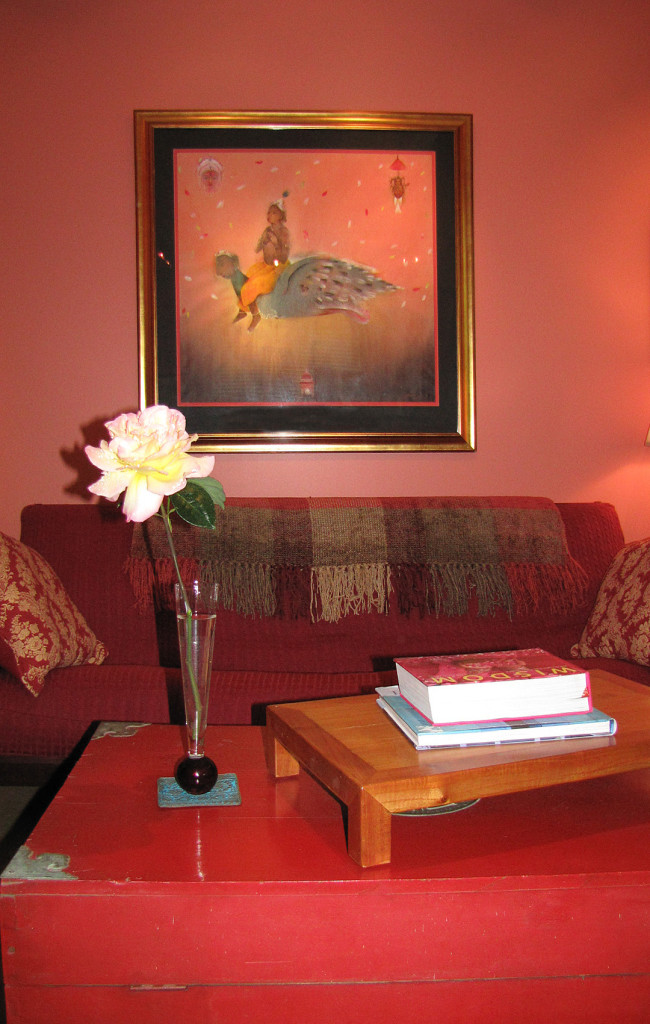 As is wont to do, a couple of things changed along the way.  First of all, I didn't glaze my walls.  I love the color as is.  And, I didn't end up angling my desk.  I didn't like sitting under a beam and there was a lot more floor space with the desk head on.  It also hides a lot of the functional parts of my business, ie; printers, faxs, files etc.  from my seating space.
The re-cap:   
I have my light and airy space
We only used what we had between the two of us, no new pieces
The color feels warm, uplifting and is definitely stimulating
I set my office up with feng shui principles ;emphasis on strong wealth, relationship and career corners, and all with strong visuals that are meaningful to me
I have a great place to meditate, and space to invite friends over to meditate as well
Plenty of shelving, filing and work space
The lighting is great, both during the day and at night too.  Even on a rainy day it's light, and with sunlight, it actually glows
And, I got rid of a lot of clutter and pared down, clean up and out with this move as well!
Check, and re-check…The energetics of space™ is great!
Ron's office is coming along.  I've done about as much as I can do to help.  Now it's a matter of him hooking up all his recording equipment, hanging his guitars and storing the small stuff.  But it's looking good, and the room definitely looks bigger then when I was in it with all my big furniture.  It's a win win.
In general, it's done…for now.  Of course I already have plans for the next stage.  But that's later, when we build Ron his real sound studio in the room above the garage that has yet to be built!  Don't tell Ron…I find it's better to spring my plans just a bit at a time!  You can see the details and all angles of my new office in the video below.
So the question is…are you happy with your office space?
Comments
comments