Great Room-The New Communal Living Space
As we downsize and simplify we often become less formal and traditional in our living style.  While we may have different rooms for different purposes such as a home office, bedroom, bathroom…at the end of the day we come together to break bread, hang out and simply interact with our family and friends.  This is particularly important for solopreneurs and hardworking adults who need that feeling of connection with their family of choice!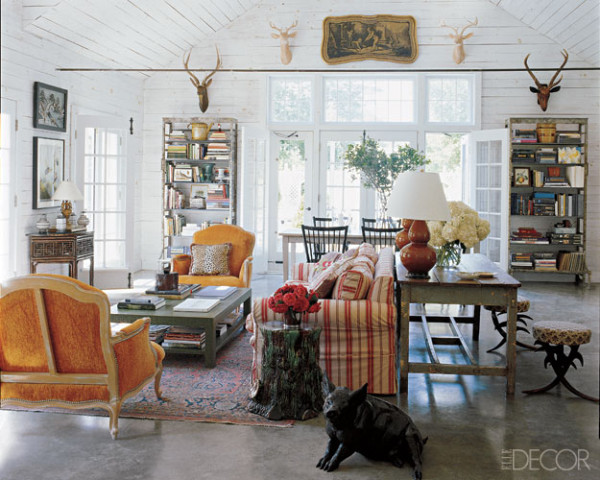 In the early 1990's we coined a phrase…the great room. It denoted a room or space within a house which combined the specific functions of several of the more traditional room spaces (e.g. the family room, the living room, the study, and dining area etc.) into a singular room.  They were the claim to fame for the McMansion era.    The concept of a great room hearkens back to the romanticized ideal of great halls and great chambers from the middle ages, which contained one large central room where everything happened.  The modern great room concept traces back to the "multipurpose room" in modernist homes built by Joseph Eichler here in California in the 50's and 60's. Then, developers of mid-range suburban track homes in America tried to solve the problem of the "dead" living room and the split between the living and family rooms by "returning" to the idea of the great room.  The dominant feature of the great room is the raised ceiling, higher than other parts of the house, typically two stories with arching ceilings often referred to in real estate jargon as "cathedral ceilings".  Unfortunately, many of these homes still included a small formal living room or sitting room.  These great rooms were the signature of the McMansion, who's era is, according to Trulia, now over. Yet, in a Slow Home, I believe that what I call the communal living space is key to a shared experience with family or friends…and a place to come to to connect and celebrate the simple things in life.  I believe that these communal spaces allow for interaction in a way that we don't have when we split off into separate rooms of the house.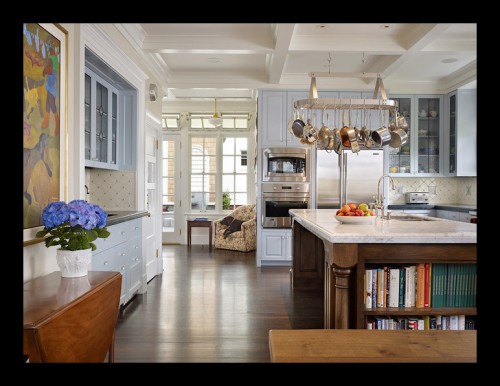 When I use the words communal living I see this as the flow of shared living, dining and cooking space as one large room, similar to the great room.  They're still the largest real estate in a floor plan and are decked out for multi purpose and modern day living. Alongside the kitchen's sleek appliances are comfy club chairs, cocktail tables, wine bars and entertainment centers. Think lounge living, a blurred-line hybrid of utility that borrows on the clubby characteristics of a traditional den.  The purpose is to create a seamless, cohesive space where everyone can all be together as a means of encouraging people to gather, linger, chat and re-connect. The difference between a communal living space and the great rooms of the late 1900's is that they are not 2 stories high which is what wasted space (no second floor) and energy (such as heat that rises to the ceiling and in essence not heating usable space.  This is not to say that one story homes do not vault the ceiling over a communal living space…but a two story home definitely does not waste a second story space.  And there is no formal living room or separate living room of any sort in the mix.  This is really a one room living space.  And…with the average square footage of a home coming down, the living space is smaller as well, and very functional!
Do you have a communal living space in your home?
If you live in a home built in the 80's or 90's with a Great Room, what can you do with the space to make it more usable for your family?  I'd love to hear, I'm always looking for new ideas!
Comments
comments