6 Tips for Closet Organization-Sonoma Style™
Did you know that January is get organized month?  Yes it is, and it's a great time to do so.  Why do I believe that organization is so important?  Between our busy lives and all the change in our world, the more organized we are the easier it is to  move through change and  keep on track in our daily lives.  I actually like getting organized, on all levels, at the beginning of the year rather in than in the spring.  For one thing, it feels like a fresh start.  For another, the beginning of the year tends to be slower for me. It's the perfect time for attacking those messy closets!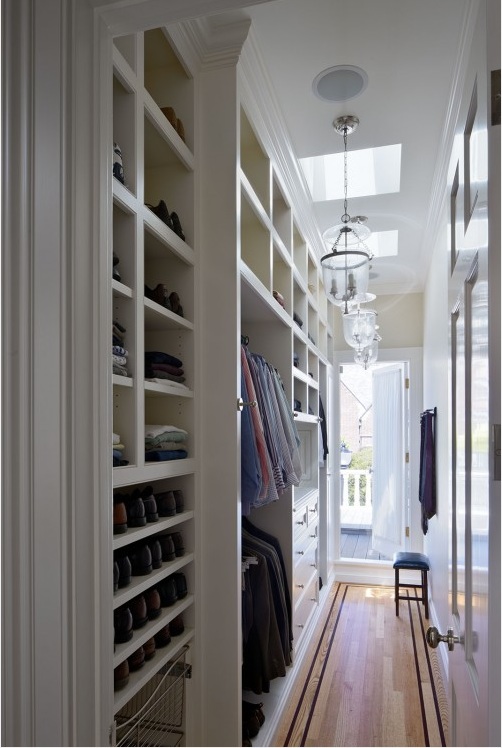 Here are some tips and tricks to getting your closet organized:    1. Edit-One of the hardest parts of cohabitation is sharing the closet. And, when living in a small home, closet space is definitely at a premium.  It's hard to do, but scrupulously editing will save you time, money, space , and maybe even some bickering.  The way to stay happy when you're living on top of one another is by ruthlessly editing; one thing in, one thing out. 2. Start on paper-Ask yourself, "What are my favorite clothes?" When considering what to toss, refer to your list. If you're still afraid to get rid of items, ask yourself these questions: "Do I love it? Is it flattering? Is it the image I want to project?" If it's a "yes" to all three, then it's a keeper. Donate the castoffs to a favorite charity. 3. The best way to organize your walk-in closet is to set it up into ZONES according to function, based on the unique way you think about your wardrobe. 4. Organize like crazy-Use every inch of space, double up, make room for drawers if you can, invest in space savers, rotate seasonal clothes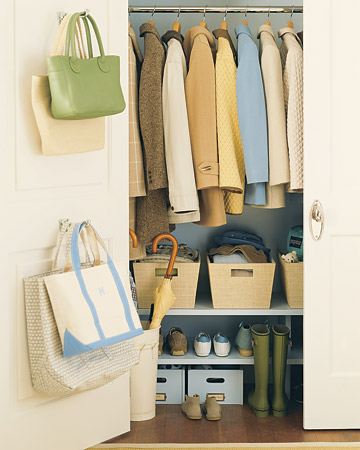 5. Shoes & Accessories- According to Julie Morganstern accessories in general, and purses in particular remain the toughest item to find useful storage for. Here are some of her favorite tricks:
Shelf dividers (a narrow square of acrylic, mesh or coated wire (try The Container Store or StacksandStack.com) which clip or slip nicely onto shelves are great for keeping handbags upright, and easily accessible.
Use small boxes to store clutches and evening bags, as well as flat purses and totes that don't have a flat bottom.
You'll fit more shoes on your shelves if you store pairs with the right and left shoe facing opposite directions…one facing toe front and the other facing heel front.
Make it a working closet if you have the space, iron, repair corner, laundry.  Where can it all go?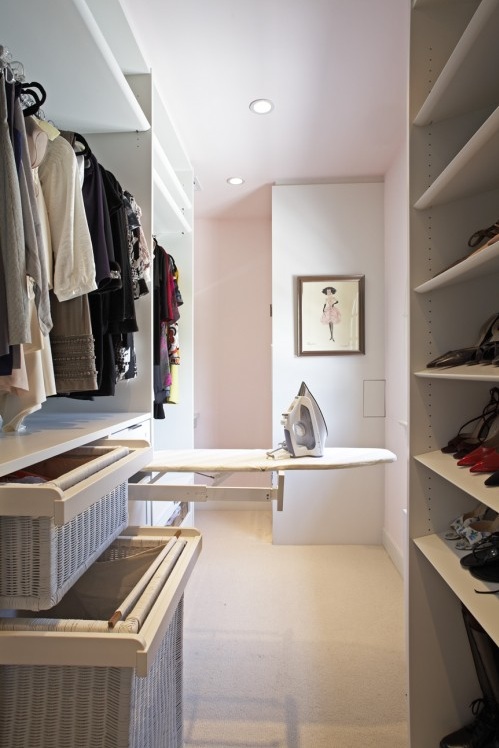 Belts work best hanging on hooks along the back of the door, or a free wall in your closet — it takes no time to roll them up, and by being on display, you can match them to your outfits more easily.
Hats also work well on hooks, if the hats are nice, consider a beautiful row of hooks on a wall in your hall or bedroom or a great hat rack.
6. Get creative-Make the space your own; paint it a different color, hang a picture if there is room, display your favorite accessories like your jewelry on nails, or your hats on hooks.  Make a statement if there is any room at all, it makes it fun.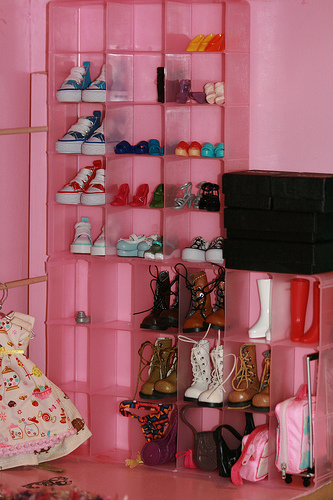 I just finished organizing my entryway closet.  I put shelves on the bottom for shoes, hung my short jackets (longer coats go to the guest room closet) and on the top shelf, small bins for shawls, scarves, gloves and umbrellas.  A visit to the Container Store and less then $100, plus an hour of my time…and voila, I can find everything.  Plus it makes me feel really good.  Now, all I have to do is get my husband to put his things where they belong!
Where will you start to your closet organization project?  And, when will you get started? Sometimes a little push is all we need.
See the video below for inspiration.  I guarantee, when you are done you'll feel terrific.
I invite you to post a comment below and share with our readers your tips and tricks, or simply your thoughts, and pass it on to someone you know who may need just a little bit of inspiration!
Comments
comments