May I Be Frank? The Ultimate Love Story!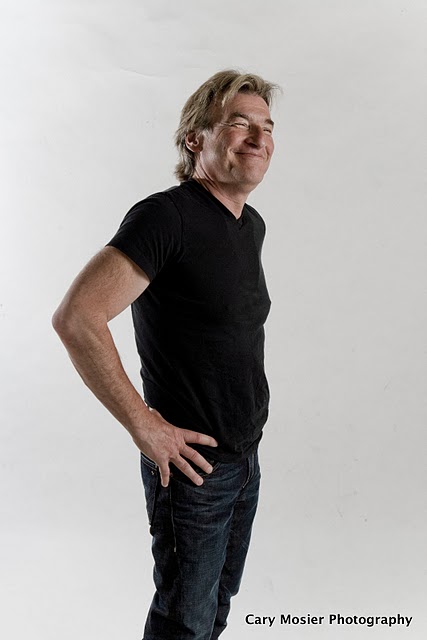 I first read about this movie on Face Book (ok, ok…by now you know I love my FB tribe).   Helge Hellburg, host of an Organic Conversation radio show interviewed Frank Ferrante…"star" of the movie May I be Frank…and Ryland Engelhart, filmmaker and server/son of the owners from Cafe Gratitude in San Francisco.  Here's what happened:
Four years ago I agreed to be the subject of a documentary. I was pre-diabetic, nearly three hundred pounds, ending a five year relationship and my daughter would not speak to me. I felt desolate, unlovable and just plain miserable.

Frank Ferrante
When Frank walked into the cafe "by accident", the question of the day from Cafe Gratitudes team was…
"What is one thing you want to do before you die?"...Frank answered…"I want to fall in love one more time, but no one will love me looking the way I do".
So started the 42 day program of transformation that three young men under 30 guided Frank, then 53, through!   Frank feels that he was "blessed" with the gift of hopelessness and  loneliness which is what drove him to actually accept the young men's offer of help.  He  followed their direction completely, doing everything from eating only raw food, practicing gratitude, visiting local holistic practitioners, and getting a weekly colonic…plus, he spoke affirmations out loud everyday that helped him change his internal dialog to and about himself.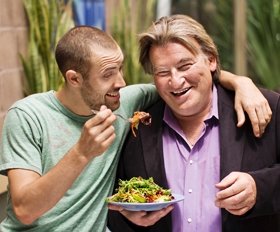 Obviously Frank is a man of integrity…he made a commitment to these young men and stuck to it.  It wasn't easy…in fact it was painful, awful and otherwise uncomfortable…but he stuck to it…and the gift he found at the end of the day was that of delving into the essence of the human condition and reaching for the ultimate goal… he fell in love with his Self.   
Today Frank travels with the filmmakers, Cary Mosier, Ryland Engelhart, Conor Gaffney to tell his story and promote their movie.  All three young men have an interest in creating impactful and progressive works of art and media that carry a positive and inspiring message.  "May I Be Frank" is their debut project in the film medium.
The film will be shown at the Center for Spiritual Living in Santa Rosa on Friday, October 29th at 7pm.  There is a $10 admission fee and a Q&A with Frank and the producers/directors live on stage after the movie.  On Monday, November 8th,  Healdsburg's Cafe Gratitude, will show the film .  It's free, starts at 7pm and dinner from their menu will be divine.  I urge you all to come and view this inspiring movie.
Meet Frank today…He is a whole Lot of Beauty™ in my book!
You can follow Frank's progress and path on Facebook and through his blog.  He is definitely an inspiration to us all with his vulnerability, commitment and his willingness to tell his story.  Take a look at these outtakes and let me know what you think!
PS…being a girl from Queens myself, I heartedly applaud this gentleman from Brooklyn, a west coast transplant like myself…you go Frank!
What stories of inspiration do you have and want to share?
Comments
comments