Anusara Yoga-a movie review
Anusara (a-nu-sar-a), means "flowing with Grace," "flowing with Nature," "following your heart."
I recently experienced a movie at the Sausalito Film Festival.  I say experienced because that's what it was for me…A true experience.  It began with a jam packed 1 1/2 hour Anusara Yoga class lead by the divine Ms. Laura Christensen who brought an additional excitement and awareness to the event with a practical application first.   Then…the launch of the film which brought in even more people.  All this was held in the magnificent setting of the BEAUTIFUL Mission Bay Church at Fort Baker and Cavallo Point and was filled with so many wonderful people and great energy that it was truly a wonderful and complete experience.   
Written, directed and produced by Saraswati Clere, Anusara Yoga, the Heart of Transformation  is an uplifting look at real transformation…that which happens in the heart.  Ms. Clere knows what she speaks of…she is a life long yoga student and the owner of  YogaKula, a studio in Berkeley and San Francisco.  I call it a studio as it is much more then what we traditionally think of as yoga  class.  Yogakula is dedicated to helping people live healthier and more fulfilling lives. Believing in an integrated approach to overall well being, YogaKula offers yoga, pilates, holistic health treatments and workshops.  And, of course they offer classes and trainings in the Anusara Yoga style.  YogaKula is definitely a holistic approach to health and exercise, appealing to the mind, body and spirit all at once.
Anusara Yoga was founded by John Friend in 1997.  While only 13 years old it is one of the most highly respected and fastest growing schools of hatha yoga in North America with an expanding presence in the UK, Europe, Japan, and Australia.  It has three basic tenents:
Tantric Vision-with it's philosophy of auspiciousness and goodness…a yogic approach to daily life in the world
Universal Principles of Alignment-a guide to channeling our energy to be more life enhancing and life affirming
Community-with the feeling of family and support that extends way beyond the mat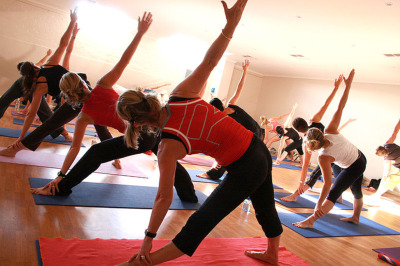 I've been practicing yoga since 1989, and while I and my body know that I thrive when my practice is strong I could never tell you why.   Anusara Yoga, the Heart of Transformation, was not only a visually beautiful movie, but incredibly informative as to the benefits of yoga on all levels, and…inspiring to all of us who saw it, even those who do not currently practice yoga.  I've had the great good fortune to have taken Anusara yoga classes taught by John Friend and can personally tell you, that for me it:
helps me to slow down
strengthens my body
focuses my mind
makes me more flexible
more balanced
increases my feeling of inner peace
expands my understanding of a yogic approach to life
and it's beautiful
Personally, yoga is the core of my exercise program, and also my meditative practice.  It is what carries me through life.  It is what helps me to be in harmony  and slow down. In fact, I'd say it teaches me how to be comfortable with slowness. Yoga retrains my body and mind and helps me shift into a lower gear.  It cultivates an inner calm that I take with me into the more hectic moments of the day .  One of the key benefits of decelerating is that it gives me the time and tranquility to look inside myself, to listen to my heart, and to get in touch with my soul.
For those of you who want to know more about yoga, whether you practice or not…or want to find a way to explain to your friends and family why you love it so…I highly recommend this movie!  You can purchase it through the YogaKula website.
Since the release of this moving film, Ms. Clere is working on another movie, one that talks about women from all walks of life and their experience of transformation through or with yoga.  I can't wait to see it…Kudos and cheers to Ms. Clere and her dedication to helping people transform!
It's definitely a Little Bit of Beauty™!
What do you do to help you slow down?  I'd love to know…
Comments
comments