Giving: Tis the Season
All it takes is one moment to change you forever.

This is Narayanan Krishnan's story.  Narayanan Krishnan, is an award winning chef who was headed to Switzerland to work in a 5-star restaurant. On a quick visit home to say good by to his parents he saw a very old man under a bridge eating his own human waste for food.  He was shocked into silence and he asked himself…
What is the purpose of my life?
This life transforming question changed the course of his life; he began feeding this man, and today, he get's up at 4AM every day…rain or shine…no holiday's…and feeds the mentally ill, homeless, destitute, and elderly who are abandoned by their families and often abused, three meals a day, every day.  The hot meals he delivers are simple, tasty vegetarian fare he personally prepares, packs and often hand-feeds to nearly 400 clients daily.  Krishnan also carries a comb, scissors and razor and is trained in eight haircut styles that, along with a fresh shave, provide extra dignity to those he serves.  Simply stated, he cares.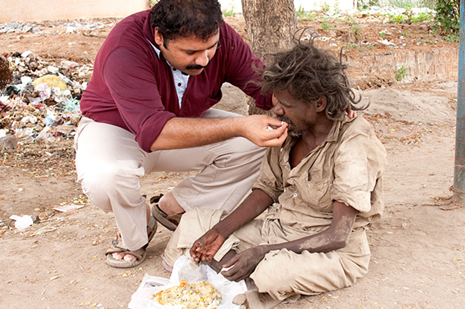 He sleeps in Akshaya's modest kitchen with his few co-workers. Since investing his entire savings of $2,500 in early 2002, he has taken no salary and subsists with the help of his once-unsupportive parents. In June of 2002 he created the non-profit Akshaya's Helping in H.E.L.P. Trust to support his cause and to help reach a greater number of people.  The word Akshaya is Sanskrit and means "undecaying" or "imperishable," and was chosen "to signify that human compassion should never decay or perish".  Expanding the visibility to a much larger audience, in 2010, Akshaya U.S.A. was founded to help support Akshaya's Helping in H.E.L.P. Trust, as well as other similar organizations.
This year he was voted as one of 2010's top ten hero's for CNN's Unsung Heros award.  Well deserved, wouldn't you say?  By the way, the other nine are also very inspiring…Personally, I find people who are selfless givers both beautiful and inspiring.
We are all human with the same basic necessities, so imagine if these people lived on your street. Don't wait until tomorrow, when you can make a difference TODAY!
Here in America we are a remarkably charitable people.  No other country approaches Americans who give the most money to help the needy and others, either through time, public donations, or private donations.
So, in the spirit of Christmas, what can you do to start a year around habit to help people in your community?  Giving is a Little Bit of Beauty™ for sure!
The CNN Heroes program will be re-telecast on Christmas Day.
One of our deepest cravings is to be recognized and encouraged. When you encourage others, you lift their spirits, enhance their self-confidence and add fuel to their motivational fire. Perhaps more than anything you give them hope and inspiration. Will you commit to being intentional about encouraging others this holiday season? -via 'Little Things Matter'
Comments
comments