Preserving Napa Valley's Barns
The Beauty of Wood in the state of pleasing decay is one of Natures special masterpieces.  Often a plain board from a barn is so remarkable in it's composition-grains and knots and shades of weathered gray–That it could be framed and hung just as any modern painting is.  And the old barn, growing moss and lichens, crumbling into decay, can be more a work of art than a new building.  It is all in ones manner of thinking. Eric Sloane, An Age of Barns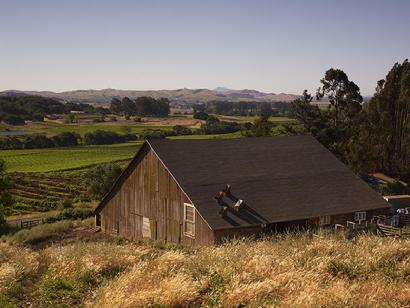 What a fabulous week end we had here in Northern California's wine country…and as an extra special event the Preservation Napa Valley Organization held their yearly Barn tour to raise money to help preserve these beautiful barns.  It was a great way to spend a slow Sunday relaxing.  The sun was out, the sky was blue, the food was delicious, the people were enjoying themselves and the barns were fabulous!  Thanks to Napa Valley Life Magazine for informing me of this great event.   
The Barns on the tour
Raven Barn at Adastra Vineyards is a beautiful steel grey-blue, and is surrounded by gardens, an old water tank house, a farmhouse, a granary and a variety of other neat, old farm buildings. This barn was the hub of the event highlighting music by the  Cobb Stompers, fabulous Slow Food, and info tables.  Adastra is known for its outstanding small production, organic wine.
Henry Ranch, a very special place, was long ago a fully functioning dairy ranch, replete with roaming pigs, calves, working horses, stacked loose hay, chickens and more. It is also the long time home of Herbie Henry, the last family member of the Henrys who originally purchased this property in 1850.  The ranch was purchased by V. Sattui Winery in 1993 and is now their vineyard management base.
Peters Barn at Vine Village is but one part of Napa's best kept secret: Vine Village. In 1972 George and Grace  Kerson purchased this property to create a non-profit organization who's goal is to 'provide people with special needs the same quality of life through innovative vocational, residential and creative arts opportunities.  It is a happy, beautiful and inspiring place to visit!
Sciligo Barn is the largest barn in the Carneros region. The Sciligo Barn was once home to a dairy farm housing a large herd of milk cows. The property was once part of Salvador Vallejo's 3000 acre Rancho de Napa (one of 10+ Mexican land grants in Napa) before Italian Antone Joseph Sciligo bought it. The 1880 Napa census lists Sciligo's profession as "dairyman." A sturdy redwood barn and the fire-scorched, stone remnants of two 135 year old house foundations are the remainders of the pioneers who first settled this property in northern Carneros.
All in all it was a great day.  And…part of my program to take beauty breaks and slow down long enough to enjoy them!
What do you do to slow down and enjoy the beauty around you?  I invite you to share your secrets in the comment section below!
It's definitely a Little Bit of Beauty™, both that a community would come together to preserve these barns, and the barns themselves…enjoy the tour!
Comments
comments