Japanese Influence is Global-Part 1-Art
Japanese influence is global! As just one small example, you may ask what does Japan have to do with the catacombs in Paris? Well, check this out!
In a sandy chamber, underground in the catacombs of Paris, in a room known as the "beach," a wave rolls across a wall painted (and repainted) by cataphiles in the style of Japanese printmaker Hokusai. Katsushika Hokusai was a Internationally renowned Japanese artist, ukiyo-e painter and printmaker from the Edo period. Hokusai is best-known as the author of the woodblock print series Thirty-six Views of Mount Fuji (c. 1831) which includes his most famous print, The Great Wave off Kanagawa. It was this series, specifically The Great Wave print, that secured Hokusai's fame to this day . To me it is a commemorative to the history of Japan's resilience in the face of the awesome force of Mother Nature on her shore's.   
I have always admired the intricacy in the "simplicity" of Japanese Prints, and paintings in general. From the older more traditional wood prints, to the more modern prints we see today.
There is also a strength in the subtle use of color and form that transcends time and traditions, giving it the ability to work across many cultures, both east and west.
There is a feeling of translucency and beauty in the composition and clean lines; an energy in the movement of the art that works in almost any interior.
It is both lovely and ironic to me that National Geographic published the story of the Paris Catacombs in their February issue…just 6 weeks prior to the latest series of natural disasters that have plagued Japan. While National Geographics story goes way beyond the painting seen above in the sandy chamber, that painting, in my opinion is by far one of the most beautiful works of art found in the underworld of Paris. The Catacombs of Paris or Catacombes de Paris are a famous underground ossuary in Paris, France. Located south of the former city gate, the "Barrière d'Enfer", at today's Place Denfert-Rochereau), the ossuary holds the remains of about 6 million people and fills a renovated section of caverns and tunnels that are the remains of Paris' stone mines.
To see the wave in context, check out the video below. Is traditional Japanese art an influence you would expect to see underground in Paris?
This week on twitter you can support #JapanLife from March 27th through April 2nd by posting on any subject you want that has to do with Japan, and join in any discussions about #JapanLife. By doing so, and spreading the links below, together we will help to increase global support for Japan in her current time of need.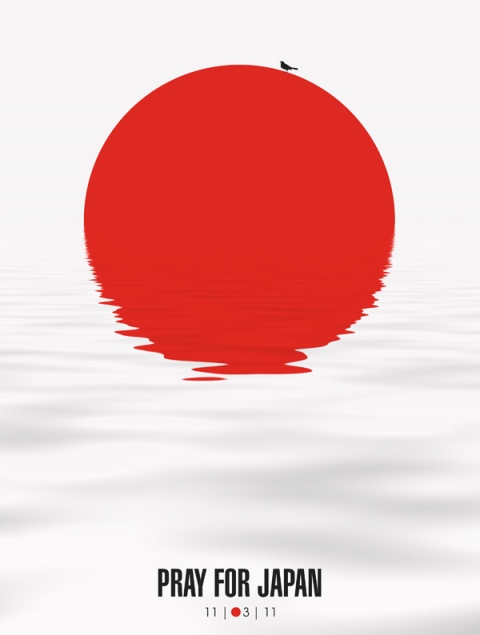 And/Or simply leave your prayers for Japan by lighting a candle through here!
What are you doing to help Japan? Do you feel it's important for all of us to reach out? I would love your addition to this conversation by leaving a comment below. Thanks
Comments
comments